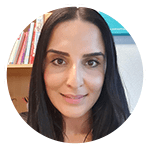 Melak Haydar
Psychologist
BPsych. PGDip Psych. (ASSOC MAPS)
Melak Haydar has worked exclusively in New South Wales and has been engaged in a variety of clinical and case management services and provides individual and group therapy interventions under Job Services Australia (JSA) and Disability Employment services. Melak's training, education, and experience in psychology has provided her with a strong background in individual and group therapy. Melak is adapt at assessment, intervention, treatment, counselling, and therapy. She has worked in a wide variety of settings including; clinics, homes, schools and has experience in Alcohol and Drugs and Mood disorders.
Prior to working with MAXimus Solutions Australia, Melak worked as an intern psychologist at a private clinic working with children and adolescents with behaviour problems and learning difficulties. She has also worked at a number of different schools as an intern psychologist administering and conducting psychometric testing for students and reports for schools.Furthermore Melak has also worked as an intern psychologist at the Sydney Clinic in Bronte; a private psychiatric hospital, working with inpatient and outpatients specialising in areas such as Alcohol and Drugs and Mood disorders.
Overall Melaks background has included counselling in cases of substance abuse and suicide. Melak is also familiar with dysfunctional family issues, learning disabilities, child development, anxiety, stress and depression.
Additional Languages Spoken: Arabic
PsychCentral is a professional psychological and allied  health service tailored to meet the needs of culturally and linguistically diverse (CALD) communities. We conduct assessments, treatment plans and interventions for individuals, couples, and families in a variety of clinical, forensic, school, disability, and work-related settings.


Bankstown
Level 8 66-72 Rickard Rd,
Bankstown 2200
Telephone: (02) 9793 7762
Fax: (02) 9793 7925
View on Google Maps
To view our other clinics, Click HERE.