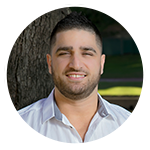 Billel Rababi
Psychologist
Billel has completed a Bachelor of Psychological Science (Honours), a Certificate IV in Training and Assessment and has a special interest in men's mental health. Billel completed his Honours in Psychology thesis on 'Masculinity from a Middle Eastern Perspective' and was raised as a cultural minority and utilises his education and experience in teaching and motivating other young men dealing with similar experiences. He believes in positivity and the power of change and has a passion for helping individuals in building the framework for a brighter future. Billel loves the NFL and supports the Green Bay Packers.
PsychCentral is a professional psychological and allied  health service tailored to meet the needs of culturally and linguistically diverse (CALD) communities. We conduct assessments, treatment plans and interventions for individuals, couples, and families in a variety of clinical, forensic, school, disability, and work-related settings.


Bankstown
Level 8 66-72 Rickard Rd,
Bankstown 2200
Telephone: (02) 9793 7762
Fax: (02) 9793 7925
View on Google Maps
To view our other clinics, Click HERE.