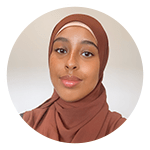 Zahra Jibril
Speech Pathologist
Zahra Jibril is a Certified Practising Speech Pathologist who is passionate about working with children and families from culturally and linguistically different backgrounds. Since graduating with a Master's degree in 2020, she has worked with a number of children and adults with a range of diagnoses, including Global Developmental Delay, Autism Spectrum Disorder, Cerebral Palsy, Intellectual Disability and KBG syndrome. Zahra is a strong advocate of educating the community on the speech pathology profession in order to help bridge the gap in accessing services. In her spare time, Zahra is mostly chasing after her daughter or exploring new brunch spots.
Additional language competency: Somali
PsychCentral is a professional psychological and allied  health service tailored to meet the needs of culturally and linguistically diverse (CALD) communities. We conduct assessments, treatment plans and interventions for individuals, couples, and families in a variety of clinical, forensic, school, disability, and work-related settings.


Bankstown
Level 8 66-72 Rickard Rd,
Bankstown 2200
Telephone: (02) 9793 7762
Fax: (02) 9793 7925
View on Google Maps
To view our other clinics, Click HERE.