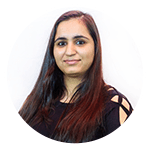 Shilpa
Senior Physiotherapist
Bachelor of physiotherapy and Masters of Physiotherapy (Neurology)
Masters of Business Administration
Member of Australian Physiotherapy Association
Member of Indian Association of Physiotherapy
Shilpa has completed her Masters of Physiotherapy in Neurology from India and practiced in Hospitals and private clinics working with toddlers to senior adults prior to her move to Australia.  Since commencing her career in Australia, Shilpa has worked in different sectors of Allied Health including Aged care, NDIS and clinic. Her interests are in Neuro physiotherapy, sports injuries and musculoskeletal injuries. Shilpa strives to ensure that her interventions are based on evidence based practice and a combination of manual therapy (including Manual muscle testing, myofascial release, manipulation, neurodevelopmental technique and PNF etc.), Dry needling, Tapping and electrotherapy (TENS, IFT and Ultrasound etc.). Her goals are to treat her patients and keep them as functional or independent as possible. Shilpa routinely researches articles and journals to learn new techniques and interventions that can facilitate her evidence based practice.
Shilpa enjoys cooking new cuisine and spending her leisure time with family and friends. She enjoys reading fiction books, watching Netflix, and travelling.
Additional languages spoken: Hindi, Punjabi and Urdu
PsychCentral is a professional psychological and allied  health service tailored to meet the needs of culturally and linguistically diverse (CALD) communities. We conduct assessments, treatment plans and interventions for individuals, couples, and families in a variety of clinical, forensic, school, disability, and work-related settings.


Bankstown
Level 8 66-72 Rickard Rd,
Bankstown 2200
Telephone: (02) 9793 7762
Fax: (02) 9793 7925
View on Google Maps
To view our other clinics, Click HERE.