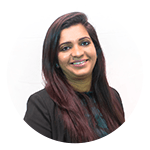 Shagufta Alam
Psychologist & Behavioural Support Practitioner
Shagufta Alam is a Psychologist and Behavioural Support Practitioner. She has holds Certificate IV in Training and Assessment.
Shagufta has a special interest in complex trauma, loss and grief, chronic illnesses and challenging behaviours. She also has experience working individuals with Autism and other challenging behaviour as a Behaviour Support Practitioner. Shagufta firmly believes that a picture speaks a thousand words and offers Art Therapy for individuals who may have experienced complex trauma, have difficulty opening up to people and to anyone who enjoys playing with colours and textures.
Shagufta is great at building rapport with her clients and that's the reason you will feel comfortable speaking to her right from your first meeting. Shagufta is multilingual and can also speak Urdu and Hindi and can also understand Punjabi.
Outside of work, Shagufta is a foodie who loves art and enjoys being out in nature.
PsychCentral is a professional psychological and allied  health service tailored to meet the needs of culturally and linguistically diverse (CALD) communities. We conduct assessments, treatment plans and interventions for individuals, couples, and families in a variety of clinical, forensic, school, disability, and work-related settings.


Bankstown
Level 8 66-72 Rickard Rd,
Bankstown 2200
Telephone: (02) 9793 7762
Fax: (02) 9793 7925
View on Google Maps
To view our other clinics, Click HERE.