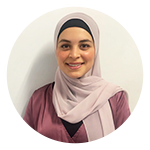 Sarah Elnajjar
Allied Health Therapy Assistant
Sarah has experience in working with adults with intellectual and physical disabilities in running group programs including cooking, music, Zumba and gardening. Sarah has assisted in running weekly playgroups which involved working with families to support their child's skill development in play. Sarah is currently studying a Bachelor of Occupational Therapy and is passionate about her role in achieving client-centred goals. Sarah likes to spend her time hiking, playing sports and food blogging.
Additional languages spoken: Arabic
PsychCentral is a professional psychological and allied  health service tailored to meet the needs of culturally and linguistically diverse (CALD) communities. We conduct assessments, treatment plans and interventions for individuals, couples, and families in a variety of clinical, forensic, school, disability, and work-related settings.


Bankstown
Level 8 66-72 Rickard Rd,
Bankstown 2200
Telephone: (02) 9793 7762
Fax: (02) 9793 7925
View on Google Maps
To view our other clinics, Click HERE.