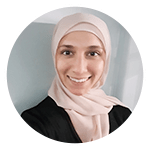 Saja Al-Zahab
Exercise Physiologist
Saja is an Accredited Exercise Physiologist, having completed a 4 year Bachelors degree at the University of New South Wales. Saja has worked extensively in the health and fitness industry. Specializing in exercise prescription, she uses the tools of physical activity as an intervention to assist with the prevention and management of a variety of health conditions such as cardiovascular, cardiometabolic, neuromuscular, musculoskeletal and mental health disorders.
Saja enjoys her solitudinous runs as well as her team sports. She can speak Arabic and like Hanan, can also speak coffee- the language of love.
PsychCentral is a professional psychological and allied  health service tailored to meet the needs of culturally and linguistically diverse (CALD) communities. We conduct assessments, treatment plans and interventions for individuals, couples, and families in a variety of clinical, forensic, school, disability, and work-related settings.


Bankstown
Level 8 66-72 Rickard Rd,
Bankstown 2200
Telephone: (02) 9793 7762
Fax: (02) 9793 7925
View on Google Maps
To view our other clinics, Click HERE.