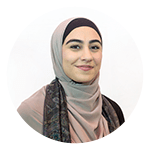 Roane Ardati
Speech Pathologist
Roane Ardati is a Certified Practising Speech Pathologist, who is passionate about working with children and adolescents, especially those with complex and special needs. She has experience with a diverse range of clients, backgrounds and presentations. Roane strongly believes that therapy should be tailored to suit the needs and wants of the client and their family, and therefore, you will find her intervention is heavily client and family centred, but also supported by the most up to date evidence based practice. She is a member of Speech Pathology Australia and is eager to extend her skill set by participating in professional development courses in specialised areas such as the Hanen Program (parent/family training) and paediatric feeding. In her spare time, you will find Roane running after her daughter or spending ALL of her most recent pay check at the shops.
Additional language spoken: Arabic
PsychCentral is a professional psychological and allied  health service tailored to meet the needs of culturally and linguistically diverse (CALD) communities. We conduct assessments, treatment plans and interventions for individuals, couples, and families in a variety of clinical, forensic, school, disability, and work-related settings.


Bankstown
Level 8 66-72 Rickard Rd,
Bankstown 2200
Telephone: (02) 9793 7762
Fax: (02) 9793 7925
View on Google Maps
To view our other clinics, Click HERE.