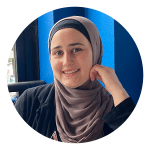 Ro'Ah Hamad
Social Worker
Ro'Ah is a Social Worker assisting those affected by mental illness, drug and alcohol, poverty, disabilities, unemployment, housing issues and other personal problems and social disadvantages. She understands the wider implications of individuals living with a mental illness and disabilities and how it impacts on their work, family, friends and lifestyle.
Ro'Ah is currently studying a Masters in Psychotherapy and has also previously completed the Bachelors in Social Work from the University of Western Sydney and a Diploma in Counselling at college. 
Ro'Ah has worked as a youth employment specialist assisting youth in shaping their career pathways, and has worked across the mental sector in diverse areas including parent focused programs, CALD community and refugees. Ro'Ah approaches her clients from a holistic point of view where she recognises every clients' individual needs and wants, working to improve the quality of life and wellbeing of clients through direct practice, crisis intervention, advocacy, community organising and psycho-education.
Ro'Ah enjoys her morning walks, watching Netflix and spending her free time with loved ones and mostly enjoys being a social worker.
Additional Language Competency: Arabic 
PsychCentral is a professional psychological and allied  health service tailored to meet the needs of culturally and linguistically diverse (CALD) communities. We conduct assessments, treatment plans and interventions for individuals, couples, and families in a variety of clinical, forensic, school, disability, and work-related settings.


Bankstown
Level 8 66-72 Rickard Rd,
Bankstown 2200
Telephone: (02) 9793 7762
Fax: (02) 9793 7925
View on Google Maps
To view our other clinics, Click HERE.