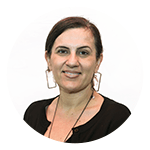 Rene Delimanis
Clinical Psychologist
Undergraduate B. Psych (Hons), M. Clinical Psych
Rene is registered with the Australian Health Practitioners Registration Agency (AHPRA) as a Psychologist with Endorsement in Clinical Psychology. She is a full member of the Australian Psychological Society (MAPS) and a Fellow Member of the College of Clinical Psychologists (FMCCLIN).
Through her Greek family background, and extensive experience dealing with patients from varying ethnicities, she has experience in understanding the cultural variations when treating mental health issues. She has extensive training and experience in the treatment of Anxiety Disorders and Mood Disorders such as OCD, Major Depressive Disorder, Bipolar Disorder, and Generalized Anxiety Disorder, and frequently treat complex mental health presentations. I further specialize in Couples Therapy, Grief Counseling, and Trauma Therapy.
Treatment modalities that she has experience in includes Cognitive Behaviour Therapy, Exposure and Response Prevention, Acceptance and Commitment Therapy, Family Therapy, and Dialectical Behaviour Therapy, and Solution Focused Therapy.
PsychCentral is a professional psychological and allied  health service tailored to meet the needs of culturally and linguistically diverse (CALD) communities. We conduct assessments, treatment plans and interventions for individuals, couples, and families in a variety of clinical, forensic, school, disability, and work-related settings.


Bankstown
Level 8 66-72 Rickard Rd,
Bankstown 2200
Telephone: (02) 9793 7762
Fax: (02) 9793 7925
View on Google Maps
To view our other clinics, Click HERE.