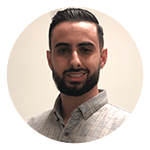 Rashid Al Dhaibi
Occupational Therapist
B. HealthSci, M. (Occupational Therapy)
Rashid previously worked as a Physiotherapy, Speech Pathology and Occupational Therapy assistant for 4 years while completing his Bachelor of Health Science/Master of Occupational Therapy. Rashid brings a unique combination of experience as he has worked closely with therapists from all over NSW. Rashid currently works with children, adolescents and young adults with disability and is extremely passionate about his role.
Rashid can design and implement interventions for sensory processing/integration difficulties, fine motor skills, gross motor skills, play/social skills, assistive technology needs, wheelchair prescription, functional equipment prescription and so much more.
Rashid is bilingual and can speak Arabic. Rashid loves sports, literally any food and making people laugh.
Additional Languages Spoken: Arabic
PsychCentral is a professional psychological and allied  health service tailored to meet the needs of culturally and linguistically diverse (CALD) communities. We conduct assessments, treatment plans and interventions for individuals, couples, and families in a variety of clinical, forensic, school, disability, and work-related settings.


Bankstown
Level 8 66-72 Rickard Rd,
Bankstown 2200
Telephone: (02) 9793 7762
Fax: (02) 9793 7925
View on Google Maps
To view our other clinics, Click HERE.