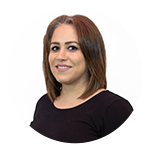 Noosha Anzab
Psychologist
B. Arts (Psych), B. Psychology, and M. Counselling and Psychotherapy
Noosha's areas of focus include but are not limited to anxiety and depression, intrapersonal intelligence, mindfulness and relaxation techniques. Noosha is bilingual and also speaks Farsi.
In her spare time, Noosha enjoys spending time with her partner and son, as well as watching or listening to documentaries. Noosha loves cheese, patisseries and a dreamy cup of coffee.
PsychCentral is a professional psychological and allied  health service tailored to meet the needs of culturally and linguistically diverse (CALD) communities. We conduct assessments, treatment plans and interventions for individuals, couples, and families in a variety of clinical, forensic, school, disability, and work-related settings.


Bankstown
Level 8 66-72 Rickard Rd,
Bankstown 2200
Telephone: (02) 9793 7762
Fax: (02) 9793 7925
View on Google Maps
To view our other clinics, Click HERE.