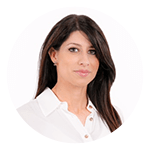 Meray Tahan
Clinical Psychologist Registrar
I am a highly motivated and compassionate clinical psychologist registrar. I work with individuals experiencing a range of mental health difficulties including depression, stress, trauma and anxiety. I have a special interest in treating individuals diagnosed with Obsessive Compulsive Disorder (OCD) and Anxiety Disorders. I provide evidence-based treatment modalities such as Cognitive Behaviour Therapy (CBT), Exposure Response Prevention (ERP), Acceptance and Commitment Therapy (ACT), Mindfulness and Solution Focused Therapy. I strive to support and advocate care for my clients in order to help them reach a sense of personal growth and satisfaction.
Additional Language: Arabic
PsychCentral is a professional psychological and allied  health service tailored to meet the needs of culturally and linguistically diverse (CALD) communities. We conduct assessments, treatment plans and interventions for individuals, couples, and families in a variety of clinical, forensic, school, disability, and work-related settings.


Bankstown
Level 8 66-72 Rickard Rd,
Bankstown 2200
Telephone: (02) 9793 7762
Fax: (02) 9793 7925
View on Google Maps
To view our other clinics, Click HERE.