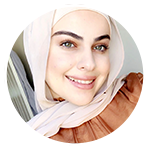 Maysa Eldhaibi
Allied Health Assistant (Speech Pathology)
Maysa is a passionate Speech Therapy assistant who has experience working with adults and children from diverse backgrounds. Maysa has worked with children in mentoring and tutoring their academic abilities.  She particularly has assisted in seeing client's various diagnosis including Autism Spectrum Disorder, ADHD, Global Developmental Delay and Child Developmental Disorders. Maysa has experience in observing and working in a variety of settings including school, childcare, aged-care and private practice. Maysa is currently studying a Bachelor of Applied Science (Speech Pathology) at The University of Sydney and is a hard-working student who is passionate about completing her studies and achieving a qualified role as a Speech Pathologist.  In her spare time, Maysa enjoys cooking, watching tv-shows, adventuring and spending time with family and friends.
Additional Languages Spoken: Arabic
PsychCentral is a professional psychological and allied  health service tailored to meet the needs of culturally and linguistically diverse (CALD) communities. We conduct assessments, treatment plans and interventions for individuals, couples, and families in a variety of clinical, forensic, school, disability, and work-related settings.


Bankstown
Level 8 66-72 Rickard Rd,
Bankstown 2200
Telephone: (02) 9793 7762
Fax: (02) 9793 7925
View on Google Maps
To view our other clinics, Click HERE.