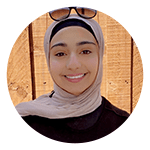 Jinan Hussein
Allied Health Therapy Assistant
Jinan is a passionate Occupational Therapy Assistant who has experience working with NDIS participants from culturally diverse backgrounds. These participants include individuals with intellectual delays, social-emotional disorders, Autism Spectrum Disorders, and ADHD. She has worked with children and young adults, enhancing their academic potential and helping them to achieve their desired goals. Jinan is also involved with several humanitarian organisations, focusing on furthering the quality of life of children with disability and providing them with opportunities to enhance their future prospects. She is currently studying a Bachelor of Occupational Therapy at Western Sydney University. In her spare time, Jinan enjoys spending time with her family going on road trips around Australia and going out with her friends.
Additional Language Competency: Arabic
PsychCentral is a professional psychological and allied  health service tailored to meet the needs of culturally and linguistically diverse (CALD) communities. We conduct assessments, treatment plans and interventions for individuals, couples, and families in a variety of clinical, forensic, school, disability, and work-related settings.


Bankstown
Level 8 66-72 Rickard Rd,
Bankstown 2200
Telephone: (02) 9793 7762
Fax: (02) 9793 7925
View on Google Maps
To view our other clinics, Click HERE.