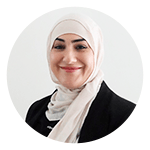 Faye Bahsoun
Occupational Therapist
Bachelor of Occupational Therapy (Honours)
"I love being an Occupational Therapist because it is so rewarding being a part of the process that helps an individual reach their fullest potential!"
Faye is an Occupational Therapist who is passionate about helping others. After graduating with Outstanding Academic Achievement from Western Sydney University, Faye has embarked on a journey to help both children and adults reach their fullest potential in their day-to-day living. Faye has experience working with individuals with a range of diagnoses including autism spectrum disorder, global developmental delay, intellectual disability, brain injury, attention deficit hyperactivity disorder, sensory processing disorder and anxiety. Faye has worked across a number of settings including community centres, homes, schools, clinics and hospitals. Faye has completed training in DIR Floortime, the Learn Play Thrive Approach to Autism, King of Swings and is FIM accredited. Faye also has a background in counselling and an interest in mental health.
Additional Language Competency: Arabic
PsychCentral is a professional psychological and allied  health service tailored to meet the needs of culturally and linguistically diverse (CALD) communities. We conduct assessments, treatment plans and interventions for individuals, couples, and families in a variety of clinical, forensic, school, disability, and work-related settings.


Bankstown
Level 8 66-72 Rickard Rd,
Bankstown 2200
Telephone: (02) 9793 7762
Fax: (02) 9793 7925
View on Google Maps
To view our other clinics, Click HERE.