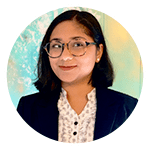 Apurva Kapote
Occupational Therapist
B. AppSc (Occupational Therapy)
Apurva is an Occupational Therapist and is passionate about working with people with disabilities from paediatrics, young people, and adults across the lifespan. Apurva also has a special interest in mental health. Apurva believes in person-centred care and working collaboratively with clients to achieve their goals and improve their quality of life.
Apurva loves baking, reading, bushwalking, and spending time with her sisters.
Additional languages: Marathi and Hindi
PsychCentral is a professional psychological and allied  health service tailored to meet the needs of culturally and linguistically diverse (CALD) communities. We conduct assessments, treatment plans and interventions for individuals, couples, and families in a variety of clinical, forensic, school, disability, and work-related settings.


Bankstown
Level 8 66-72 Rickard Rd,
Bankstown 2200
Telephone: (02) 9793 7762
Fax: (02) 9793 7925
View on Google Maps
To view our other clinics, Click HERE.